Hey guys, today I'm co-hosting a giant winter holiday link party with a few fabulous bloggers! If you're looking for winter, Christmas, or Hannukah ideas, you'll find a ton linked up at the bottom of this post. And if you're a blogger with a winter, Christmas, or Hannukah idea, feel free to link it up below! I also have a fun little Christmas craft to share with you guys, but first a little intro to the party!
Welcome to the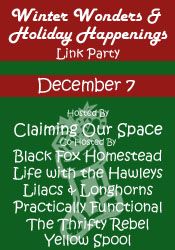 Winter Wonders and Holiday Happenings Link Party!
December is here and that means Hanukkah, Christmas and Kwanzaa are right around the corner so it is the perfect time to share all your delicious holiday dishes and decor, along with your favorite Winter treats and projects.
Help get us inspired!
Claiming Our Space has joined up with Black Fox Homestead, Life with the Hawleys, Lilacs and Longhorns, Practically Functional, The Thrifty Rebel and Yellow Spool. Each of us will share our own project or recipe, so make sure to stop by each blog and check out what we have been working on, and link up your own winter or holiday inspired posts!
Here's my holiday craft:
Printed Fabric Gift Tags
Everything about Christmas is awesome, but my favorite part is wrapping presents. I love neat little packages, fun ribbon, gift tags…the whole deal! So imagine how excited I was when I figured out you could print on fabric and make fabric gift tags!
The original idea for these printed fabric gift tags came from a guest post on Tatertots & Jello by 52 Mantels. As soon as I saw her post I knew I needed to make some of my own for Christmas this year. So I did, and I love how they turned out!
And it turns out, it's EXTREMELY simple to do! So if you want to make some of your own, here's how to do it.
Fabric Gift Tags
Materials:
canvas or duck cloth
printable gift tags (I've provided mine as a printable below if you'd like to use them)
painter's tape or masking tape
a piece of card stock paper
grommets
scissors
Fray Check (optional)
So it turns out, printing on fabric is exactly like printing on paper. Who knew?! (Ok, caveat…there are probably some fabrics you shouldn't print on. Like silk. Or polyester. Just use your best judgement here!)
Start by cutting your fabric to the size of a sheet of printer paper (8.5″ x 11″). Use painter's tape or masking tape to tape the fabric to the card stock on both long edges. Make sure to just tape the edges, so that the tape doesn't cover up the printable area! (My fabric was a bit wrinkly, so I ironed it before taping it to the paper. Totally optional. :-p)
Once the fabric is taped to the paper, just load it into your printer like normal and print! If you are printing more than one page, I suggest doing it one sheet at a time. Also, make sure you know which way to load your paper so you print on the fabric side, not the card stock side!
Remove the fabric from the card stock. Then, you have two options for cutting out the tags: just cut them out, or use some Fray Check first. The problem with just cutting the tags out is that the edges will fray a bit. If you like the "vintage/aged" look, then go for it! If you'd rather cleaner edges, add some Fray Check to the edges of the designs before cutting them out. It looks kinda scary and discolored in the photo below, but I promise that the Fray Check dries completely clear! (The only weird thing I noticed is that there was a very very slight red-ish discoloration with the grey ink, but the red and green inks were fine.)
Once the Fray Check was dry, I cut the tags out. Then I added tiny grommets to the tags and I was done! I added grommets to both ends of the tags because I have a fun idea for using these to actually wrap the presents. But if you just want to use them as a gift tag, you can add a grommet to one side only.
If you like the design I used, feel free to download the following printable and use it for your own tags!
The best thing about these fabric gift tags is how easy they are to make! This whole thing took me maybe an hour total. Awesome! Also, you can easily personalize them; how cute would it be to print out a tag with the recipient's name in it?! And canvas is really durable fabric, so as long as you aren't worried about the edges fraying, you can keep these tags and re-use them year after year!
Now that you know you can print on fabric, what other fabulous ideas can you think of? I was sooooo excited to figure this out, I have a million fun projects to work on now!
---
Now that you have seen my project, it is time for you to share your projects, crafts, recipes, whatever you have come up with that is Winter or Holiday related via the linky tool below.
Your project will show up on all the host's blogs so you only need to link up once but, remember, all of us are sharing something different for the party. So make sure to visit Black Fox Homestead, Life with the Hawleys, Lilacs and Longhorns, Practically Functional, The Thrifty Rebel and Yellow Spool and Claiming Our Space to check them all out.
The party will be up until Thursday, December 20 and then on Friday, December 21, each host will pick their favorite two link ups. So mark your calendar to check back to see if you were featured.
Just a few guidelines:
If you aren't already a follower, we would love it if you would add each of the hosts.
Link ups should be Winter or Holiday related. (No shops or other link parties please)
Try to visit some of the other link ups and leave a comment. Everyone loves visitors!
You don't need to link back but we would appreciate it if you would display the button on your blog or in your post to let your own readers know about the party.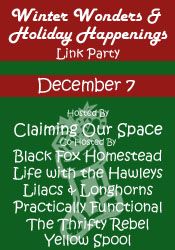 With that, it is time to party!!
  I link up at
these awesome parties
!